Kyoto Gosho is the former Imperial Palace, located at the center of Kyoto. The large luxurious Kyoto Gyoen National Garden surrounding the palace and the nearby Sento Gosho Palace, the former residence of the retired emperor, is a relaxing spot with rich greenery enjoyed by the people of Kyoto. The park measures 700 meters from east to west and 1,300 meters from north to south. Before the Imperial Palace was moved to Tokyo in the latter half of the 19th century, this vast park was the residential quarters for nobles. Today, it is a public garden with pebbled promenades, green lawns and seasonal trees and flowers.
To the southwest of the palace stands Nijo Castle, built in the early 17th century. Ninomaru-goten, renovated in 1626, is a building renowned as a priceless example of the architectural style of that period. The best known section of the splendid interior, with its murals and carvings on the walls, is the Happo-nirami-no-Shishi-zu, in which the eyes of the painted lion appear to look straight at viewers no matter where they are standing in the room. Some of its interesting devices used in defense against enemies are also worth a look. They include the Uguisubari-no-roka corridor, where the planks make a sound like a nightingale's song when walked upon, and the Musha-kakushi, special doors designed to hide guards, both must-see attractions. Mannequins have been placed throughout the palace, making the period come to life.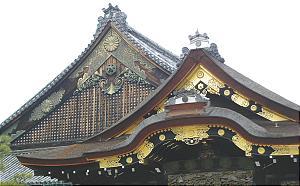 Ninomaru
Nijo Castle (Nijojo) was built by Tokugawa Ieyasu, founder of the Edo Shogunate, as the Kyoto residence for himself and his successors.
The palace building, now known as Ninomaru ("secondary castle"), was completed in 1603 and enlarged by Ieyasu's grandson Iemitsu. It survives in its original form and is famous for its Momoyama architecture, decorated sliding doors and floors that squeak like nightingales when someone walks on them (a security measure against intruders).
Iemitsu also added the Honmaru ("main castle") including a five storied castle tower to Nijo Castle. However, the original honmaru structures were destroyed by fires in the 18th century, and the present building was moved there from the Imperial Palace in 1893.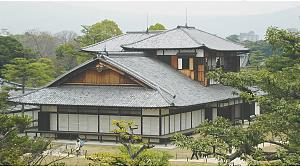 Honmaru
Nijo Castle is one of Kyoto's many UNESCO world heritage sites.