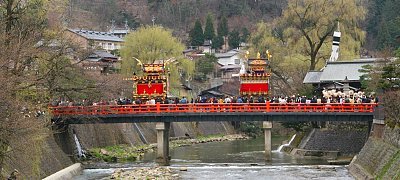 The Takayama Festival (Takayama Matsuri) is ranked as one of Japan's three most beautiful festivals. It is held twice a year in spring and autumn in the old town of Takayama and attracts large numbers of spectators.
The Spring Festival (April 14-15) is the annual festival of the Hie Shrine in the southern half of Takayama's old town. While the shrine is also known as Sanno-sama, the spring festival is also called Sanno Festival.
Likewise, the Autumn Festival (October 9-10) is the annual festival of the Hachiman Shrine in the northern half of the old town, and the festival is also known as Hachiman Festival.
The spring and autumn festivals have similar attractions and schedules. Each festival features its own set of about a dozen festival floats (yatai). During the year, the tall and heavily decorated floats are stored in storehouses, which are scattered across Takayama's old town (except the floats exhibited in the Yatai Kaikan).
Display of festival floats
From morning to late afternoon of both festival days, the festival floats (yatai) are displayed in the streets of Takayama. When the weather is bad, the floats remain in their storehouses, but the doors of the storehouses are opened so that visitors can still take a look at them.
Karakuri Performance
Several of the festival floats are decorated with so called karakuri ningyo, sophisticated mechanical dolls that can move and dance. Karakuri doll performances are held on both days of the festival at dedicated times and places. During bad weather, the performances take place in the floats' storehouses.
Mikoshi Procession
A portable shrine (mikoshi) is carried around the town in a parade during the two days of the festival, starting and ending at the respective festival's shrine. The mikoshi contains the shrine's kami (Shinto deity). The festival is the only time of the year when the deity leaves the shrine to be carried around town.
Evening Festival
In the evening of the first day (starting around 18:30 in spring, around 18:00 in autumn), the festival floats (yatai) are pulled through the streets of Takayama's old town. The evening festival (yomatsuri) is considered the festival's highlight by many visitors. In case of bad weather, the evening festival may have to be canceled.
The Takayama Festival is a very popular event, visited by several hundred thousand people from across Japan and the world. The festival gets especially crowded if one or both festival days fall on a weekend or national holiday.
As a result, hotels in central Takayama get booked out many months in advance of the festival, and it is recommended to make hotel bookings about half a year in advance. Neighboring towns, such as Furukawa and Gero Onsen can also be used as a base for seeing the festival, but going further than that will make it difficult to see the evening festival.