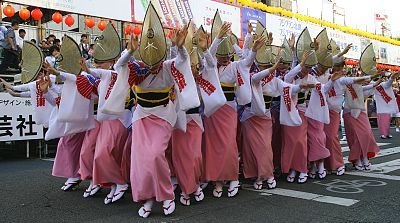 Tokushima City's Awa Odori is the most famous of many dance festivals held across Japan during the Obon season in mid August. "Awa" is the former name for Tokushima Prefecture while "Odori" means dance.
Between August 12th and 15th, spectators and dancers come to Tokushima in the thousands to see this "Fool's Dance" whose origins date back 400 years. This nickname comes from the lyrics to a common dance song, which translates as follows: "Fools dance and fools watch, if both are fools, you might as well dance".
Male and female dancers, both wearing happi
Although some events happen during the daytime, the main spectacle takes place between 18:00 and 22:00, when groups of dancers called "ren" perform in blocked off streets of downtown Tokushima. Ranging from amateurs assembled just days before the event, to veterans who practice year round, the ren come from Tokushima, other parts of Japan and as far away as the United States.
The groups dance through designated spectator areas (enbujo) in a procession, playing traditional musical instruments as they go. Though the dance steps are simple, ren distinguish themselves with difficult variations and colorful uniforms. Women wear cotton robes called yukata, while men wear happi (shorter yukata over shorts or pants). Like the dance, these standards vary from group to group.
In the evening, Tokushima's city center shuts down and is turned into a large dance stage. There are seven different stage areas with either free or paid seating. The paid stages are sure to draw the professional groups, while the former will have more casual dancers as well. Typical festival flourish, such as food and game stalls, as well as more dancing, takes place outside of the stage areas.
Visitors planning to see Awa Odori may have difficulty securing one of Tokushima City's hotels, as hotels are booked out months in advance. Many spectators have to stay elsewhere; options include nearby Naruto (40 minutes by train), Takamatsu (1 hour by train), or even Osaka (2.5 hours by car).
Festival instruments; drums, shamisen and flutes
Tickets for the four reserved stage areas can be purchased in advance or on the day. The tickets range between 800 and 2000 yen and can be bought at convenience stores nationwide. Same day tickets are also sold by the tourist information center in front of Tokushima Station between 10:00 and 20:30, and outside each of the reserved stage areas beginning at 17:00 on festival nights.
For visitors to Tokushima who miss the festival, a museum about the Awa Odori is located in the Awa Odori Kaikan. There you will also find a dance hall where dance demonstrations are held several times a day. In addition, the lower station of the ropeway leading up to Mount Bizan is located in the Awa Odori Kaikan building.