The Chichibu Night Festival (Chichibu Yomatsuri) is the festival of Chichibu Shrine in Chichibu City, Saitama Prefecture, just 90 minutes from central Tokyo. It is held every year on December 2nd and 3rd, with the main action taking place on the 3rd.
The Chichibu Night Festival is considered one of Japan's top three festivals to feature floats, the others being Kyoto's Gion Matsuri and the Takayama Matsuri. Its floats are ornately decorated with lanterns, tapestries and gilded wood carvings, and are accompanied by drum and flute music.
The festival's other attraction is its fireworks show, which lasts almost two and a half hours and gives you the rare opportunity to enjoy Japanese fireworks during winter. Additionally, the streets are lined with food stalls selling numerous festival foods and amazake (sweet rice wine) to combat the cold December night.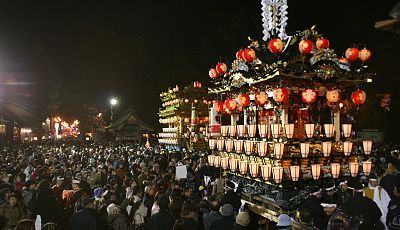 Floats displayed on the grounds of Chichibu Shrine
The main events of the Chichibu Festival take place on December 3. In the afternoon and early evening, the six floats are displayed in their respective districts and at Chichibu Shrine, before they are being pulled through the streets of Chichibu towards the city hall from around 19:00.
The climax takes place on the plaza in front of the city hall, when one float after the other is pulled up the slope onto the plaza and they all line up. From 19:30 to 22:00 a long, spread out fireworks display is held, which can be seen from many places around town.
Due to the festival's popularity, it gets very crowded, especially along the parade route and around the plaza in front of the city hall. For good views of the action on the plaza, you will need to get there very early to secure a spot, reserve seats in advance or content yourself with viewing it on the big screen in front of Seibu Chichibu Station.
| | |
| --- | --- |
| Float paraded through the street | Fireworks Display |